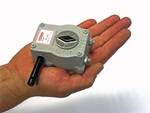 Rotork Gears reports that international markets have reacted positively to the introduction of its range of 242 Series manual gear operators and orders have been received. Significant activity in China includes an important order from the valve manufacturer China Valves Hanwei for a natural gas project. 242 Series manual quarter-turn gear operators benefit from the latest design technologies to provide optimum robustness and durability with minimal non-structural mass and reduced overall size.
Suitable for the operation of ball, butterfly and plug valves or other quarter-turn devices in most general industrial applications, all 242 Series manual gear operators feature a sturdy cast iron IP67 watertight enclosure, a ductile iron wormwheel, PTFE thrust washers and adjustable end stop screws. A range of five sizes is available to accept valve stem diameters of up to 70mm (or 58mm square section) and deliver an output torque range of up to 2100Nm. Built with standard ISO base dimensions between F05 and F25, simple and rugged 242 Series gear operators are ideally suited for low torque manual applications.
Options include stainless steel input shafts and fasteners, Namur and Westlock mountings, an IP68 temporarily submersible enclosure and a padlock kit.