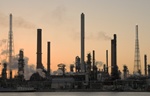 Trainer, the Delta Air Lines owned oil refinery had a $63 million loss in November and December caused by Hurricane Sandy. Delta has said that Sandy damaged regional pipelines and terminals in the area and slowed distribution of products which in turn forced Trainer to slow production and lower efficiency.
The first shipment of cheaper Bakken crude will be brought to the refinery before the end of March from the upper Midwest, "which will lower the overall total input costs at the refinery," Jacobson said on a conference call with investors. Delta said Sandy cut $100 million from its fourth-quarter profit. After recording $231 million in special items, the airline reported net income of $7 million, or a penny a share.
Delta ended 2012 with $5.2 billion in unrestricted liquidity and spent $70 million to reconfigure the refinery. Last month, Delta executives said they expected Trainer, which has capacity to produce 185,000 barrels a day, to generate $280 million in savings in 2013 and refine 80 percent of the airline's domestic jet fuel.